Experience the effortless one step method to hoop and align heavyweight fabrics. The secret of this magnetic hoop is in the patented design. And now you can have the Snap Hoop Monster It's perfect for:
Terry cloth
Bulky fleece
Quilt sandwiches
Heavy fabrics
Continuous embroidery
Allover embroidery

Designed for Ease
Snap Hoop Monster comes with a flat magnetic top and metal bottom frame. The bottom frame includes a machine attachment that is recognized by the embroidery machine. Simply lay the stabilizer and fabric over the bottom frame and snap the top frame in place. Voila! Even the heaviest of fabric is secured.

Be Creative with Small & Large Projects
Multiple hoopings are a breeze with the Snap Hoop Monster. Just lift the magnetic top frame, slide your fabric and snap the top frame back in place, no need to remove the bottom frame – you can hoop right under the needle! Easily achieve flawless continuous embroidery when stitching quilts, towels and more. Stitch all the way to the edge of fabric by securing just two or more sides in the hoop. Snap Hoop Monster is available in multiple hoop sizes for most machine brands!

THE WEIGHTLESS QUILTER X THE SNAP HOOP MONSTER Watch as Eileen takes on this giant quilt with the ease of the Weightless Quilter and help from the Snap Hoop Monster in ONE day!
US Warranty 30 days replacement if defective.
Non-US Warranty: 30 days parts and laborSpecifications
Snap Hoop Monster Tutorial Happy National Embroidery Month! For her monthly Stitch Along, Eileen Roche teaches the ins and outs of using her Snap Hoop Monster magnetic hoop for machine embroidery.

Included Accessories
Monster Snap Hoop Includes:
One metal base frame with machine attachment
One magnetic top frame
One magnetic safety shield
Four 14" adhesive centering rulers
Target Stickers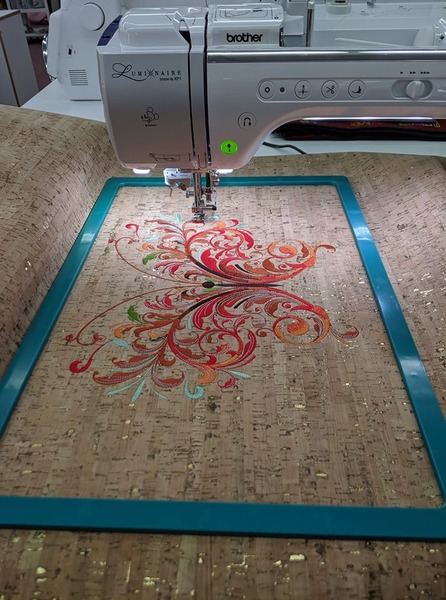 DIME Snap Hoop Monster SH00A11M Magnetic Frames 10.5in X 16in Continuous Embroidery with XP1 on cork fabric and built in design.