You can install and use it without PE Design, but if you have PE Design, it needs to be upgraded at the same time. Requires upgrade of your existing software if you have PE Design Next and then from v9.0 to 9.13 (or later releases) to use all the new features. See *
*Click HERE for PE Design Next ver 9.13 Download
Owners of both machines will delight in the amazing features, such as Image Scanning, Color Shuffling™ function and Onscreen Auto Resizing with Auto Density Fill. The upgrade package was built with the creative embroiderer in mind too. In addition to 2 new embroidery fonts and 10 new designs, the Color Shuffling™ function will allow you to change your design color palette with the touch of a few buttons.
Exclusive Color Shuffling™ Function allows you to change design color palettes with the touch of a button
Change your design color palette with the touch of a button. You'll be amazed at the virtually infinite possibilities of thread color choices for every design.
Just select a design, touch the Color Shuffling™ icon and select one of four different color scheme choices - random, vivid, gradient or soft.
The design will appear onscreen in six different color combinations. Zoom in on one for a close-up peek or turn the page to see even more options. Save the different color offerings into Memory or your stick. Don't see the look you had in mind? Just shuffle again for a whole new set of colors.
Perfect when you want to place the same design on multiple creations, but want to add a personalized touch to each. Or when you want to place a design on fabric that might not match. Take it a step further and scan your fabric in the hoop and see your new color combination on the fabric - without taking a stitch. Don't like it? Don't stitch it. Let the machine give you more options until you find the perfect rainbow for you.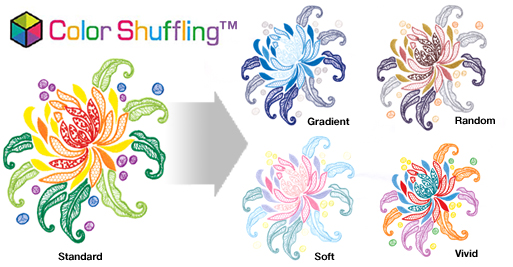 10 new embroidery designs
2 new embroidery fonts

INTRODUCING THE WORLD'S FIRST SCANNER IN A SEWING & EMBROIDERY MACHINE!


How nice would it be to ensure that the logo on shirt pockets is perfectly centered, or that two designs are placed just right in relation to each other? Now you can! Use the InnovEye® Technology to scan the embroidery field and see the bigger picture of your creation on screen, so you can be certain that you're putting a design exactly where you want it in relation to your entire hooped area. Perfect for positioning designs on pre-made garments and for delivering precision placement on projects such as quilt blocks.

• Use the scanner to scan the fabric in the entire embroidery area
• View the real-time scanned image on the LCD display
• Place your design exactly where you want it, using the LCD display for perfect placement every time

Being able to see the bigger picture of your fabric and work area makes your options for creative design greater than before! You no longer have to imagine how your design will look and choose a needle drop area - now you can actually preview it on screen!